Jon Labaj Ninja Spotlight
A new-age hippie on the cutting edge of technology.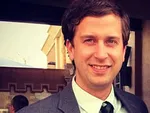 Update: Jon is no longer with Network Ninja, but here is what he had to say when he worked with us.
Where in the world are you located?
I am primarily in Chicago, but I often work from various locations across the country while I visit friends and family.
What's your role at Network Ninja?
We don't believe too much in titles here at Network Ninja, but I'm some sort of combination between lead developer and product manager. We all work closely as a team to "collaborate on Collaborate" to do everything from designing new features, to optimizing the database so our clients get their report results more quickly. Basically I work closely with clients and our internal team members to improve Collaborate every day.
Current computer?
I have a 15-inch MacBook Pro and love the Retina display!
Current mobile device?
My Galaxy S6 edge keeps me connected when away from my desk. Though the edge is somewhat gimmicky, it does give me a glimpse of my email when I need to see it quickly.
Besides your phone and computer, what gadget can't you live without and why?
That would have to be a tie. I have an Amazon Echo that I love to ask questions all day long (though she doesn't always know the answer). Using voice recognition has started to change the way we use technology and I really enjoy being on the edge of that.
I also absolutely love my Phillips Hue lights. They have that "cool" factor and can help me concentrate or turn my apartment into a dance party. Even better–they now work together too! I can ask with my voice to turn the lights on in my kitchen.
What apps, software, or tools can't you live without and why?
I love Eclipse of course. The IDE made development so much more enjoyable, faster, and simpler. I'm also a big fan of Slack. It really is the new de facto enterprise IM solution (and so much more).
What's your workspace setup like?
I have a 24-inch HP touchscreen on one side that I use for email, basic functions. Then my MacBook is connected to another 24-inch monitor on the other side to keep me focused on work.
What do you listen to while you work?
I switch back and forth between Pandora and Spotify. But often I just enjoy complete silence. I hit pause often whenever I hit a problem that is "blowing my mind" so I can try and get my brain focused entirely on the issue at hand.
What are you currently reading?
I actually do not read too many books these days. Working on a computer all day, kind of drains my brain. I have lots of reference books that I go back to for design pattern ideas, or UIX advice, but other than that the only reading materials I follow are websites. I'm a news junkie, and follow stories all day long.
How do you recharge?
I'm one of the "hippie" new age types. I love hot yoga and practice a few times a week. Something about sweating puddles while reaching the edge of what my body can handle is appealing to me.
I also try to meditate but don't always find the time. I recently went on a meditation retreat where all participants were "silent" (no talking, no emails, no text messages) for 4 days straight. It was maddening how loud your mind's voice can get when it doesn't have an outlet. But the silence brought new insights to my thoughts and it was a really great experience.
I also just love to spend time with friends and family. I travel often throughout the US to visit everyone and see new sights. It really helps to escape to new locations, though the work always tends to find you wherever you are.
Category
Are you a developer? We're hiring! Join our team of thoughtful, talented people.