How to Create a Rewarding Remote Team Gathering
Tips for planning and executing an in-person meetup from a remote-working company.
Everyone here at Network Ninja works remotely. Once a year, each of our three product teams get together in person for a few days - plus we have one big company-wide bash every January. After several years of running these meetups, we've learned a few things about what makes them successful.
Below, you'll find some of our best practices for conducting a team gathering, along with specific examples from the Collaborate team's latest fruitful meetup.
Choose the Right Location and Accommodations
The host city for your meetup should be easy to fly or drive to, and offer a good blend of dining and entertainment options. If you're booking hotel rooms, aim for lodging that's centrally located and relatively close to the airport - this will cut down on travel time dramatically, and increase walkability to local attractions.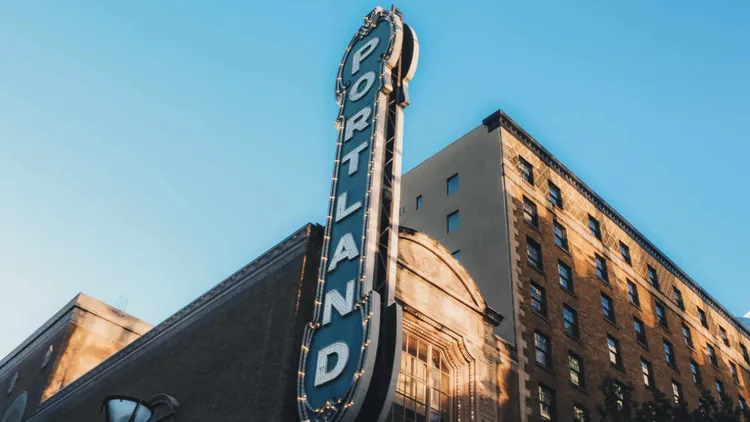 Where We Met
Following last year's happy annual gathering in Portland, Oregon, the Collaborate crew returned to the City of Roses in August 2019. A well-appointed conference room at the Dossier Hotel (where we also lodged) proved an ideal meeting space, while the city itself served up endless opportunities for friends, food, and fun.
Trip Tip: Double (and Triple) Up
If you find a great city and venue that works well for your team, why not go back again and again? It's much easier to re-book everything each year rather than starting from scratch - plus your group will enjoy the tradition of returning to a familiar place.
Make it Meaningful
Why are you having a conference in the first place? Take the opportunity to remind yourselves why you work for this company, and with each other. Recap recent milestones and recognize team members for their contributions. Callouts over Slack or email are nice, but in-person kudos are far more substantial and memorable.
Why We Work Together
Collaborate clients include hundreds of Children's Advocacy Centers and other non-profits dedicated to helping deserving people. We support these selfless folks via tailored case management software that makes their lives easier, improves data accuracy, and helps influence outcomes. That's why we do what we do - in our own way, to have a positive impact on society.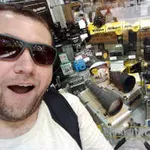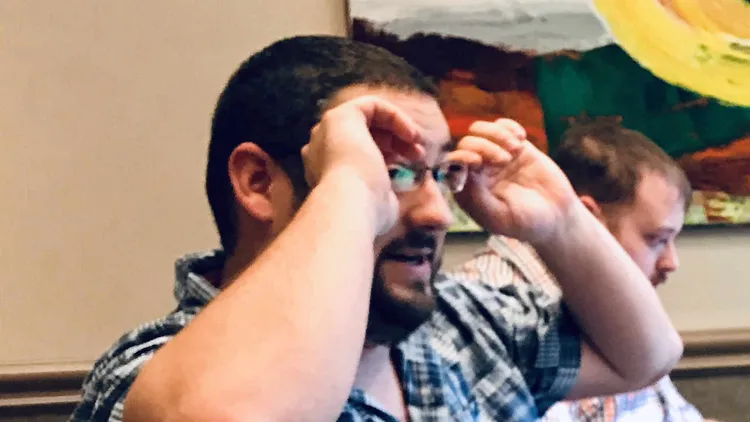 For our Portland meetup, lead developer Tyler Lannom thoughtfully assembled a very detailed recap of the team's accomplishments - including individual callouts for each member - from the first seven months of the year. We knew we'd been busy, but the data was eye-popping.
From January 2019 through July 2019…
3 New members added to the Collaborate team
13 New Collaborate client implementations launched
1,396 Hours spent supporting existing implementations
523,000 Case records imported into Collaborate
Trip Tip: Pack Some Data with Your Luggage
Numbers matter. Use your meetup to highlight the tangible results your team has achieved recently. After all, no one will know just how much you've accomplished until you compile the data and present it in a meaningful way.
Purposefully Plan Your Workdays
With your group in one place, it's a perfect time to focus on high-level items that are difficult to tackle amid everyone's day-to-day responsibilities. These engaging in-person discussions aren't "meetings" - they're a practical and efficient opportunity to work through complex topics and make important decisions.
In between conversations, take plenty of breaks for snacks, beverages, and off-topic exercises. If you get this part right, it won't feel like work at all.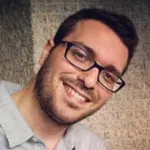 What We Talked About
Some of the topics Collaborate developers and analysts tackled in Portland included:
A standardized app for CACs,
The future of data migration, and
A deep dive into our security policy.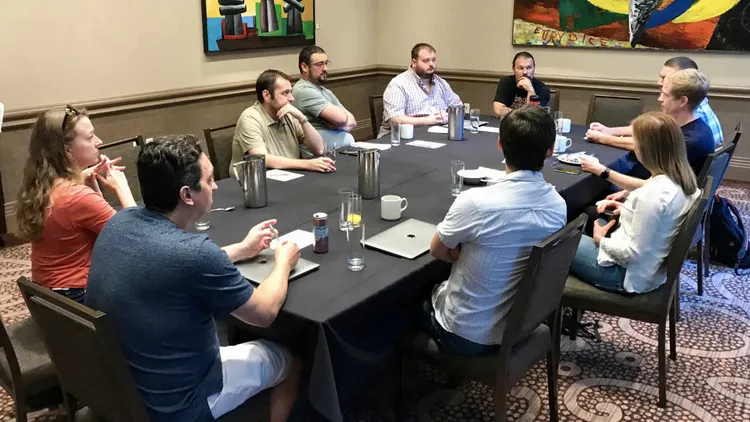 Emphasis on Data Security
At Network Ninja, we take our clients' security very seriously - not just because our business depends on it, but because we believe data privacy is a human right.
Since we deal with sensitive data on a daily basis, we regularly review our security policy with all employees. It's not glamorous, but it works. Avoiding phishing and social engineering, keeping our laptops and home networks secure, and using password managers are a few of the many ways we help ensure our clients' data security.
The Collaborate team even created a HIPAA primer to help non-profits maintain their data compliance.
If you're concerned about your organization's data safety, or you'd like to learn more about our security practices, reach out to us.
Trip Tip: Hammer Home a Topic That Bears Repeating
Identify one important concept that you want your team members to internalize, and review it in detail during your gathering. Encourage people to ask questions during the discussion, providing real-world examples of how issues might arise - and the proper ways to deal with them.
Schedule Some Fun Stuff (but Leave Room for Spontaneity)
Your work gathering shouldn't be entirely about work. It's also a chance to have fun together, share delicious meals, and create lasting memories. Your good times don't need to be 100% planned, but booking a dinner reservation and a specific team outing will definitely be appreciated.
Make sure you leave some free time for your colleagues to navigate their own paths, too. Part of the fun of meetups is exploring a city together and going on impromptu adventures (bonus points if you bring a Nintendo Switch or board games for late-night fun).
What Fun We Had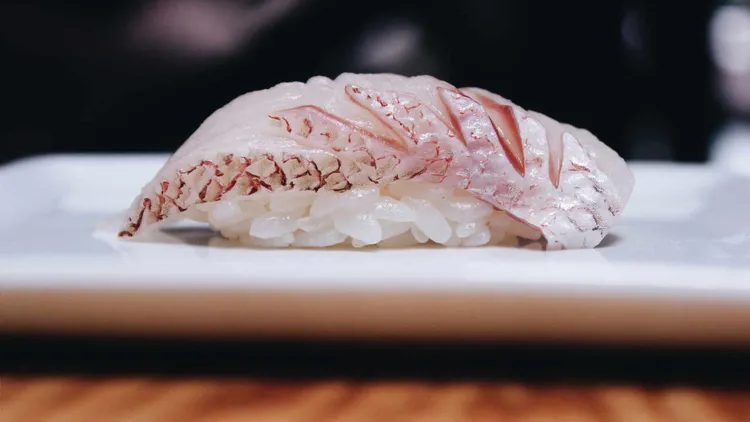 The highlight of our Portland culinary travels was a visit to Nimblefish. Best…sushi…ever. In fact, we were so blown away by the cuisine (and saké) that we forgot to take any pictures of it, so here's one courtesy of Nimblefish.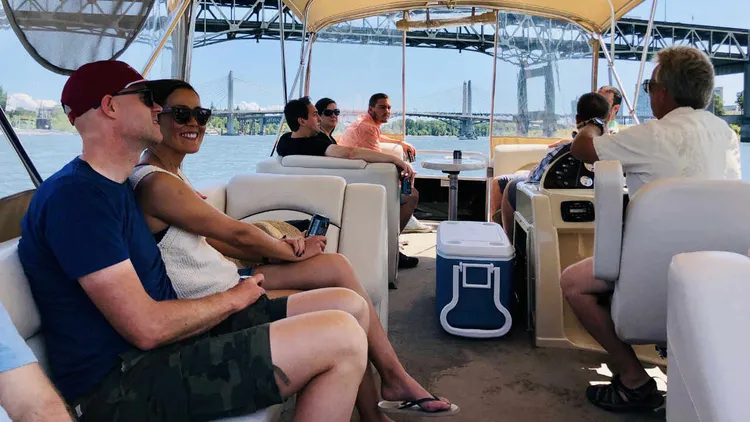 We're on a boat! Matt Bochneak, our product lead, was nice enough to send out a survey beforehand to make sure everyone was comfortable going out on the water.
Trip Tip: Ensure Outings are Inclusive
Carefully consider the tastes, needs, and limitations of all of your team members prior to planning an outing. If you're unsure if everyone is comfortable with a certain activity, a poll in your Slack channel can provide some insight.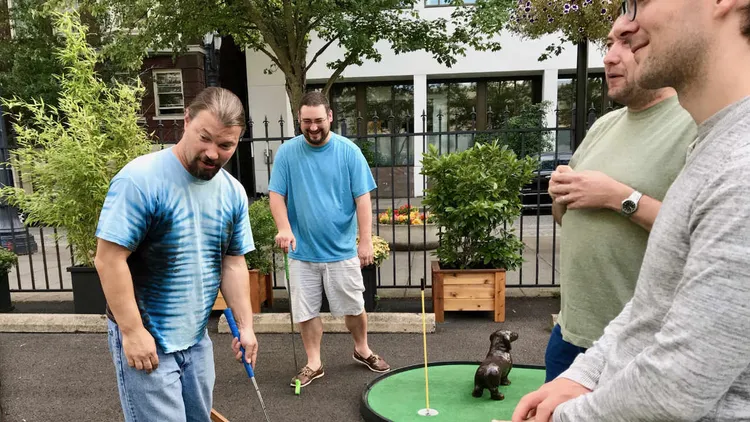 Fore! We spontaneously decided on a round of miniature golf at The 19th Hole, which includes a food truck and outdoor beer garden.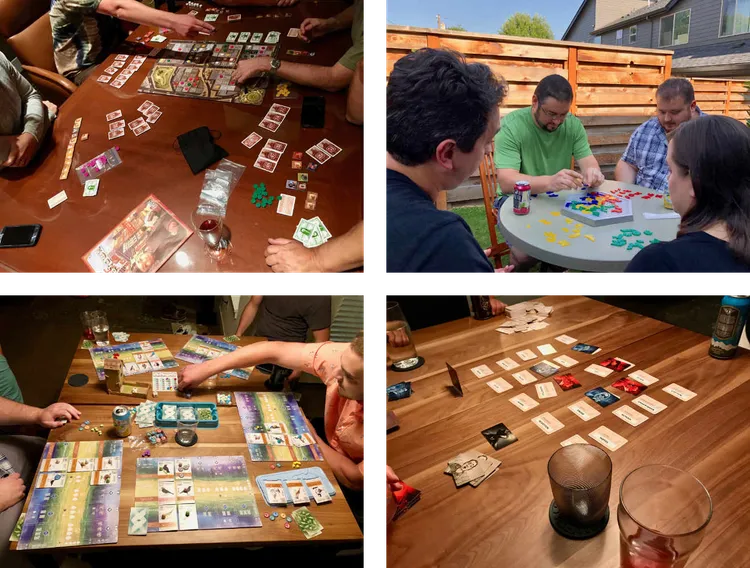 Yahtzee! Board games that involve lots of strategy and teamwork are a big part of our company culture. In Portland, we competed in many rousing rounds of Chinatown, Blokus Trigon, Wingspan, and Codenames.
Wrapping It Up
Remote team meetups are awesome - as long as you choose the right location, make your conference meaningful, focus on tackling high-level problems, and pack in some fun activities. If you follow this simple framework, your team will be talking about the trip for months afterward, and won't be able to wait for the next one.
Why We Meet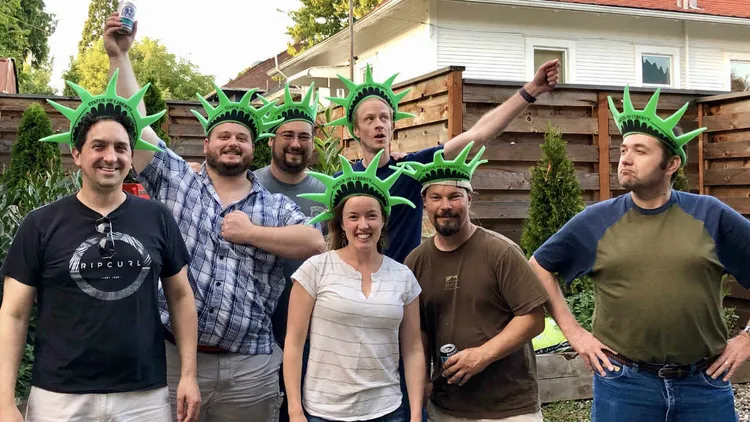 Having the freedom to work from our home offices across the country is great, but gathering together is a welcome change of pace.
Meeting up is very important to us, because it's so fun and productive to spend facetime with our colleagues. The Collaborate team departed our 2019 conference more excited than ever to work together to deliver exceptional software and service. See you next year!
Trip Tip: Share Your Experience with Everyone
Make note of what elements of your team outing worked well, and those that didn't. Share these insights with other teams in your organization so they can use them for their own gatherings.
Encourage everyone to take plenty of pictures throughout the trip, and have one member be your designated photographer. Compile the photos and publish them somewhere - either internally, or better yet, within an interesting blog post that expresses your team's culture.
Category
Are you a developer? We're hiring! Join our team of thoughtful, talented people.