What's on Your Menu Bar?
Check out some of the daily tools that our Ninjas use
The menu bar (or the system tray for Windows/Linux users) is often filled with handy tools and gadgets that can make our daily desktop use very efficient. We asked a couple of our ninjas what kind of tools they had in their menu bar.
Alex Escalona

Hangouts Chrome Extension: I've been using a Google Voice number for years now. Hangouts replaced Google Voice. This extension let's me SMS and IM (and call) with all my contacts
Google Photos Backup: Auto-backs up images to the Google cloud
Google Drive: We use Google drive at work to share the weekly testing doc and our password database, among other docs
CrashPlan: Auto-backs up (potentially) unlimited amount of data to my home server, which backs up to the CrashPlan cloud starting at $5/month
Dropbox: The Google Drive alternative. I've used it for a long time now
Mac OS VPN Status Icon: So I can easily connect to the NNI VPN when on an untrusted or public network (say, while working from coffee shops or someone else's home network)
Bluetooth Status: Self-explanatory
Mac OS Lock Screen Icon (Keychain Access): This is handy esp. when I'm in public and need to step away from the computer. And yeah, I take my laptop with me to the bathroom when in a public setting. I'm paranoid like that
Wi-Fi
Volume
Battery
US Keyboard
Time
Username
Spotlight
Tunnelblick: The open-source VPN software as a backup to Mac OS VPN. I use it mainly to connect to my home VPN, which is a backup to the NNI VPN
Notification
Mike Matz

Paste: clipboard history manager
1Password: password manager
BackBlaze: backups
Little Snitch: network monitor & firewall
Airplay control
Sharing control
Time Machine backups
Volume / audio devices
Wi-Fi
Battery
Date & time
User
Spotlight
Notifications
Robin de Bled

SIP: color picker
smcFanControl: controls your MacBook fan
BarTender: organize menu bar items.
CPU LED: keep an eye on your CPU load
Time Machine: backup software
Wi-Fi
Battery
VPN Connection
LightShot fastest way to take a customizable screenshot
Mom: Mac on Linux
f.lux: adapt your display to the time of day
BetterTouchTool: add more gestures to your trackpad and/or mouse
Volume
Bluetooth
User change
BarTender Settings
Ryan Shay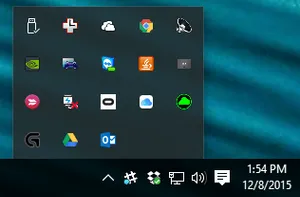 System Devices & Printers Icon
Rescue Time: time tracking app
OneDrive: store files online
Chrome Background Task
Realtek HD: Audio Manager
Nvidia Experience Manager
Logitech Game Controller Manager
TeamViewer: remote control any computer (handy for support)
Java Update Scheduler
Skitch: screen shot app
Asus Quick Charge
Oculus Rift: virtual reality mask!
iCloud: store files online
Razer Synapse: controls or assign macros to any of your Razer peripherals
Logitech Gaming Software
Google Drive, store files online
Outlook 2016
Matt Bochneak

Chrome Notifications
join.me: for online product demonstrations
Dropbox: online file storage
Google Drive: online file storage
Plex: Media server
Spectacle: move and resize windows
Time Machine: backup all the things
Bluetooth
VPN
Wi-Fi
Battery: fully charged!
Date & Time
Spotlight
Notifications
Category
Are you a developer? We're hiring! Join our team of thoughtful, talented people.